3 simple tips to make perfect chocolate chip cookies….
My son told me tonight he had three shared lunches at school next week.  I thought about all I could bake, but I decided to make a large batch of chocolate chip cookies. 
Cookies are very easy to bake and everyone has their favourite recipe. Our family's favourite recipe comes from:  Betty Crocker – Ultimate Chocolate Chip Cookies 
Ingredients
¾ cup granulated sugar
¾ cup packed brown sugar
1 cup butter or margarine, softened
1 teaspoon vanilla
1 egg
2 ¼ cups all-purpose flour
1 teaspoon baking soda
½ teaspoon salt
1 cup coarsely chopped nuts (I never add nuts just due to so many people having allergies)
12 ounces/340 grams (2 cups) semisweet chocolate chips
Directions
Start by pre-heating  the oven to 375 Degree F./190 Degree C.
Mix sugars, butter, vanilla and egg in large bowl. Stir in flour, baking soda and salt (dough will be stiff). Stir in nuts and chocolate chips.
Drop dough by rounded tablespoonfuls about 2 inches/ 5 cm apart onto ungreased cookie sheet.
Bake 8 to 10 minutes or until light brown (centres will be soft). Cool slightly; remove from cookie sheet. Cool on wire rack.
My simple tips to make your perfect cookies are:
Refrigerate your cookie dough for a short time before scooping (if you have the time)
Use a cookie scoop to make the cookies perfectly round
Only bake for 8 to 10 minutes this keeps the cookies from going flat
Vintage Embroidery Tray Cloth
I love vintage things in my home. This beautiful vintage tray cloth was made by my grandmother's friend in 1937.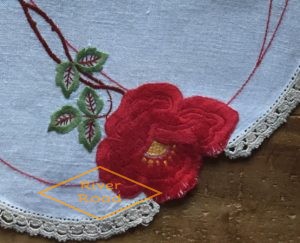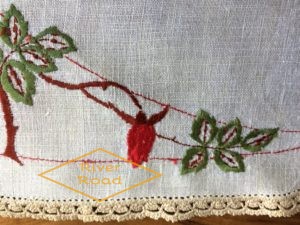 Thanks for reading my post!
  Andi