A very inexpensive and easy way to do my daughter's bedroom makeover was using chalk paint.
Pre-teens Makeover Bedroom update with One Room Challenge @house beautiful
My daughter Serah has turned 13 and as a teenager wants something different. She is very keen to pick out and help paint some furniture for her new room. We brought new colourful bedding, curtains and a rug for the floor.  Next came some furniture…
Little Pine Wooden Shelving Unit
I brought a little pine wooden shelving unit, to use as a bedside table, for only $5.00 at a Thrift Store which I decided to paint in a combination of Annie Sloan Chalk Paints, Old Ochre and Coco. These are very neutral colours which look great in any room.
The shelving was in good condition and just needed a wipe down before painting. No sanding was needed, as the chalk paint sticks really well to any surface. One of the reasons why I love painting with it!
After Serah and I gave it a couple of coats, I let it dry for a day before putting on the Annie Sloan Clear Wax and Dark Wax. I rubbed the dark wax lightly on top of the clear wax. Then gave it a good buffing with a soft cloth. I buy old flannelette sheets for about a $1.00 from Thrift stores and cut them up for this purpose.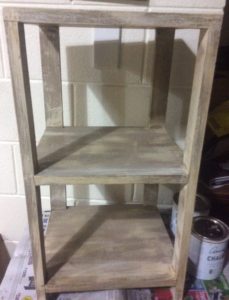 Cane Headboard
My other great find at a local Thrift Store up this lovely cane headboard for only $15.00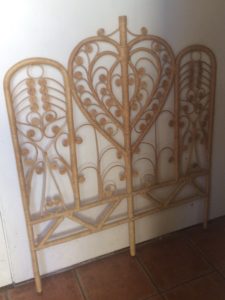 I painted the cane headboard  Annie Sloan Chalk Paint Emperor's Silk, which is a really beautiful red. I used a smaller paint brush  on this as it was important to get in all the little areas. Only one good coat was needed and no wax is required on cane surfaces.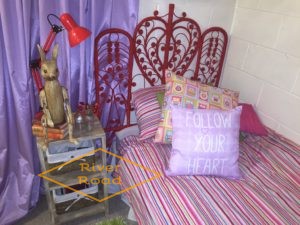 It was great to see how well the room came together and Serah was very happy.
Thanks for reading my post!
  Andi