This old TV Console I brought for $10.00 on Trademe.
Simple repairs needed
One cabinet door was broken and a shelf was missing, it was just not looking so good. But sometimes you can see the potential in a piece. Especially if it is made of mahogany wood and you have two cans of Annie Sloan Chalk Paint Old Ochre and Coco.
I started by removing the glass doors, which was easy to do. Then unscrewed the plastic door tracks and filled in the screw holes with wood filler.  I took off the broken door and cut it down to replace the shelf that was missing.
Finally, I removed all the hardware and place it aside to paint.
As this was such a large piece I used a paint roller to do the first coat. I mixed together both paint colours in the paint tray. They went on easily and if any drips I lightly sanded down when it had dried.
It was such a beautiful day to be painting outside!
For the second coat I used a brush and still using the paint tray I poured the two different colours in side by side. I painted one colour then the next, combining the colours, painting it smoothly over the surfaces. After paint had dried I again light sanded any drips and made sure it was really smooth.
I decided to use Annie Sloan Clear Wax on all the surfaces and Dark Wax only on the front trim.
Using the same hardware, but I painted and sanded it down.  In New Zealand hardware is really expensive compare to America, so I try to use the same hardware when possible.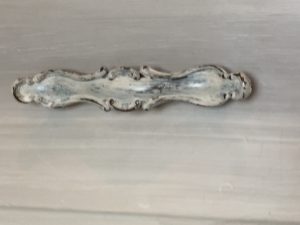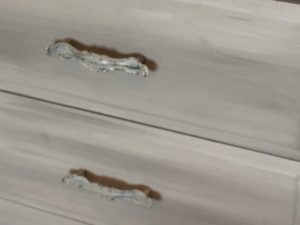 What a transformation, it came out far better than I expected.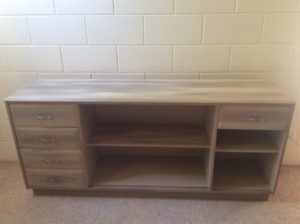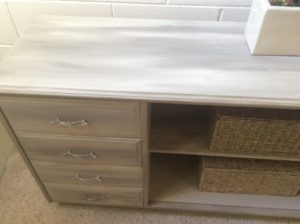 Thanks for reading my post! Hope you have enjoyed it!
   Andi