Time's a ticking to Christmas – shopping at Kmart.
It was such a windy day here in Havelock North yesterday it looked like snow was falling. But really it was beautiful flower petals.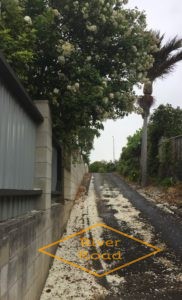 I did a quick trip to our local Kmart in Hastings, only 10 minutes away and was excited to see such an amazing remodelling of their store.
The store was buzzing and usually I don't want to think about Christmas this early, but I found 3 things I had to buy. And of course when I got home I had to try them out as you do.
The first thing was 3 Metal planters for only $17. One of these I was definitely using for my Rosemary topiary I am growing. See my post – growing rosemary topiaries in time for Christmas…
Next I purchased this adorable Ombre Rocking Reindeer for $7. I love this and it fits in perfectly with the colour scheme in my living room.
The last thing I got was a cute Reindeer bath mat for $12. I can see a Reindeer and duck egg blue theme in my home this Christmas.
Ok, so I didn't buy much, but I was selective and I have got to say I was so impressed with wonderful array of items and very reasonable prices at Kmart.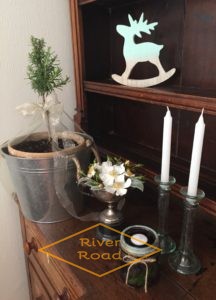 Vintage silver trophy
One of the things I love using is the lovely silver trophy we got when I was a child. Our Siamese cat won this cup! I filled it with my lovely white bramble roses.
Old Mason jars
Another thing I love to use is old Mason Jars of my mums, here I painted the old ring with some Duck Egg Blue to add my theme colour.
Then I filled it with bay leaves from my garden and Bay blueberries grown locally in Hawke's Bay. Filled it with water and a little tea-lite candle.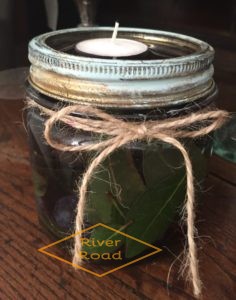 It makes the decorations special to use things from the house and garden. It also saves on the budget at Christmas!
Thanks for reading my post. More Christmas posts to come…
Andi