As soon as I saw it I knew Annie Sloan Chalk Paint would look wonderful on an old Art Deco Cabinet that I found in a local Napier Second Hand Furniture Store.
One of the wonderful things about living in Hawke's Bay, New Zealand is the Art Deco town of Napier.
Napier Earthquake
It had a devastatingly large earthquake in 1931, but after the earthquake the town was rebuilt. The buildings were all beautiful Art Deco Buildings, which remain to this day.
In February each year the whole town of Napier becomes an Art Deco Festival. People come from all over the world to dress up in deco style clothes. The city is totally transformed for a few days. It is such a fun time, our family love dressing up and being part of it. It is like going back in time.
I was really excited to find an old Art Deco Cabinet and Drawers for a good price.
As you can see it needed a really good clean with water and dish detergent. Then some little holes and deeper scratches I filled with wood filler, to tidy the surfaces up.
Annie Sloan Chalk Paint has so many great colours to choice from but I think my favourite are Old Ochre and Duck Egg Blue.  They look beautiful together and the design on this piece of furniture lends itself to having two different colours on it. I ended up having to paint two coats of each colour and then gave it a gentle sanding after each coat had dried. Just to smooth any rough areas of paint. It is easy to get little drips here and there and sanding gets rid of them.
Then I finished it off with Annie Sloan Clear Wax. (No Dark Wax this time.)
I kept the original hardware on as they were in such good condition.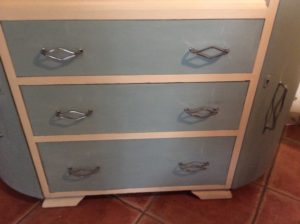 The end result looks amazing with these colours.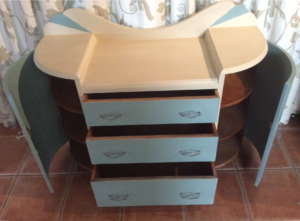 If you enjoyed this post please leave a comment, would love to hear from you about your favourite Annie Sloan Chalk Paint…
 Andi