Shabby Chic Headboard…
My daughter and I are working on redecorating her bedroom. Our next project was to shabby chic a headboard for her bed. I want to show you the easy steps to shabby chic a headboard with everyday interior house paints. We were looking at a Thrift Store on Saturday and found a great headboard and baseboard for free.
They were in reasonable condition and made of solid wood. Because headboard and base had been painted white previously we decided to use paint from our local Resene paint shop. The colour picked was, Wild Thing, which was really quite a bright yellow, but  we decided to give it a go. I just brought four test pots (60 ml each) and used two coupons (buy one get one free) off the back of grocery store receipts. The cost was $9.00.
This was a great project for my daughter, Serah, as it was easy to do. Also, a good chance to practice her painting on something where mistakes where easy to fix.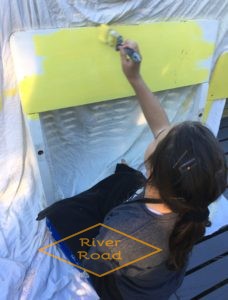 Once the first coat was done Serah found the colour too bright or too "perky yellow" as she called it. So I mixed one test pot I had brought previously of Half Bianca (60 ml) with one pot of Wild Thing.Serah much preferred the lighter yellow.
Distressing
Once the paint had dried overnight I lightly sanded down areas of the paint. The thing I love about shabby chicing a piece of furniture is it is wonderful for getting rid of mistakes, drips etc. So I just sanded off areas at random, places where in time it might get worn away anyway. The underneath layer of white paint came through in places to make it a bit more interesting.
Clear Wax and Dark Wax
Finally after sanding I used Annie Sloan Clear Wax and Dark Wax over the sanded areas. I just like this look, but you can leave it without wax if you like.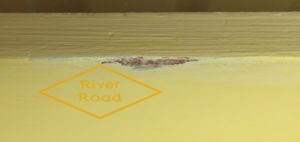 Thanks for reading my post! Serah's bedroom reveal coming soon!
  Andi