Little Sad Old Cabinet – Needed Chalk Paint Makeover
I loved this little old cabinet as soon as I saw it at a Thrift Store, but it needed a chalk paint makeover. The great thing about it was it was only $20.00, but unfortunately the top half of the back was broken and there was borer in the back. It was probably why it was so cheap!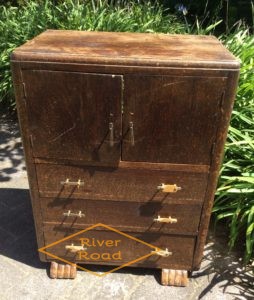 The first thing I did was remove the broken top part of the back.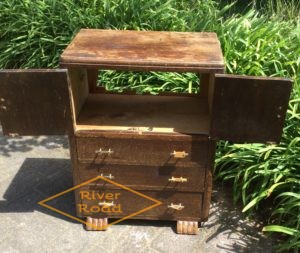 I washed it all down with water and dish detergent. Some of the old hardware was broken, so I removed it and brought some cooper knobs at a local building recycling shop. My husband Tom replaced the back with a piece of wood he cut down to size and nailed on.
Borer
I treated the whole cabinet with a borer spray to be on the safe side. I don't get put off by furniture with borer, because some old pieces do have borer. It is easy to treat with a spray and or a borer bomb, just follow the instructions carefully.
When I removed the hardware there were two holes and I filled in one of the holes with wood filler, as I only needed one hole for the replacement hardware.
Annie Sloan Chalk Paint
I used Annie Sloan Chalk Paint Old Ochre on the outside of the cabinet. I ended up giving it two coats of paint, then gently sanded it in some areas to show the wood underneath. It had a lovely texture and dark colour I wanted to show through.
I painted the inside of the cabinet with Duck Egg Blue.
Then I put Clear Wax on all the surfaces, inside the cabinet and outside and rubbed it in as I went along. Finally, I rubbed Dark Wax on some areas of the outside, highlighting rougher areas of the paint and wood.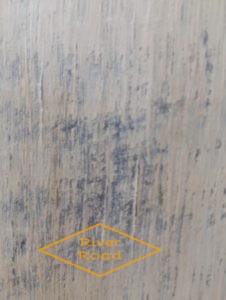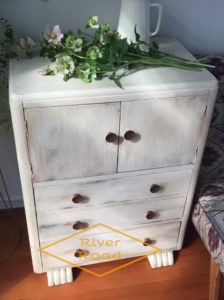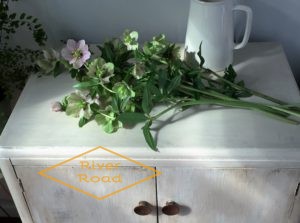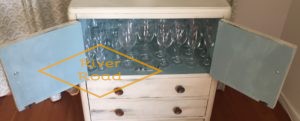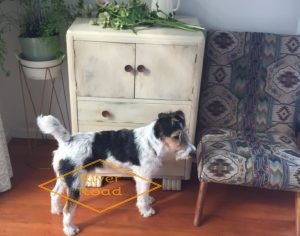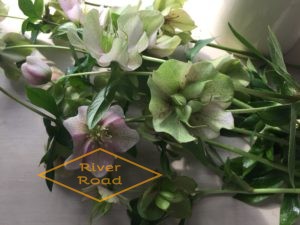 Thanks so much for reading my blog!
  Andi