We are going to be celebrating Thanksgiving in New Zealand with Rhubarb Custard Pie…
We moved to Havelock North, New Zealand just over 4 years ago, but we still love celebrating Thanksgiving as a family here. In America we always travelling down to spend Thanksgiving with family in St Augustine, Florida. It was a great time of gathering together and of course an abundance of food. I  associate Thanksgiving with pies, pecan, pumpkin, sweet potato, never rhubarb custard pie. What's pies do you always have for Thanksgiving?
When I got to thinking about our Thanksgiving here in Havelock North in a few weeks, I started looking at my pie recipes and came across my Grandma's Rhubarb Custard Pie.
I have some rhubarb growing in the garden so I thought I would try the recipe out.
Rhubarb Custard Pie Recipe
Choose your favourite pastry for the crust. I use Chelsea Winter (New Zealand Chef) sweet shortcrust pastry recipe available here.
Grease an 8 in/20 cm pie dish and line with your pastry, flaky or short.
Filling:
2 level cups of finely sliced rhubarb (do not peel)
2 eggs
1 Tbsp. melted butter
2 level tsp. flour
1 scant cup of sugar
Beat the eggs, add melted butter. Mix flour and sugar well, add to the eggs, beat until light and fluffy. Then stir in the rhubarb.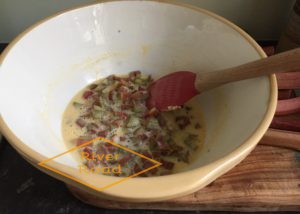 Pour the mixture into the pastry-lined dish.
Bake in a hot oven 425degrees F, 220degrees C for 10 minutes. Then reduce the heat to 350degrees F, 180degrees C for 40 minutes or until firm to touch.
The recipe says to eat it hot with whipped cream, we loved this, but it was just as nice the next day cold. The rhubarb is quite tart in the pie, but it balances out well with the custard.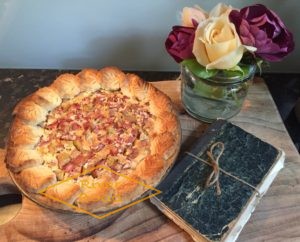 Earthquakes in New Zealand
We had some severe earthquakes in New Zealand last night, only felt one but it was scary enough.
Thanks for reading my post. Hope you get a chance to try my Grandma's pie!
  Andi